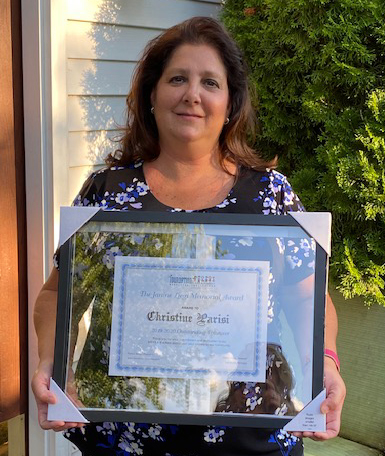 Christine Parisi was the 2020 recipient of "The Janine Liegi Memorial Award". Christine tirelessly volunteers to enhance our K-8 school district and our community. She serves on The Board of Education and holds an Ex-Officio position on The Foundation for MERS. Christine has always put the needs of others first. She donated her time and was a former officer in the Englishtown-Manalapan First Aid Squad. Christine is currently a dedicated EMT for the Howell Police which further exemplifies her level of commitment and selflessness during these challenging times.
Christine is a talented educator who has had an impact in countless children's lives. Currently, she teaches Social Studies and Music in a public high school. Mrs. Parisi is an advocate for students with Special Needs and constantly shares her research and knowledge of trends in Special Education with our Board and the Board of Ed.
Christine has been a Manalapan resident for the past twelve years. This dedicated wife and mom is proud of her three sons, two whom went through our system and one who continues to thrive from the benefits of attending The Manalapan-Englishtown Schools.
Due to COVID-19 restriction a virtual ceremony was held. Maria Mallamaci, Vice-President presented Chriistine the Award at her home on July 28, 2020.